Celebrate Trails Day!
Saturday, April 23, 2022, 9:30 AM —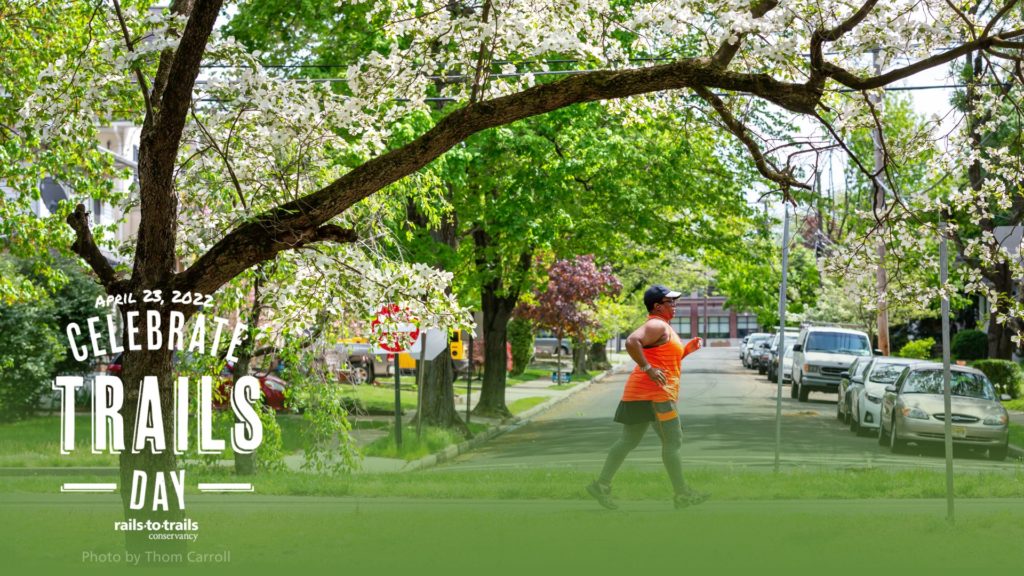 Join the Capital Trails Coalition (CTC), the Washington Area Bicyclist Association's Trail Rangers, and Jafe Cycling for a bike ride on the Anacostia River Trail and the Marvin Gaye Trail to Celebrate Trails Day! Hosted on the fourth Saturday of April, Celebrate Trails Day (formerly Opening Day for Trails) is an annual spring celebration of America's trails. Started by Rails-to-Trails Conservancy in 2013, the celebration encourages people all across the country to get outside and enjoy the nation's exceptional trails and trail systems.
We will be joined by Trail Planners from Maryland National Capital Parks and Planning Commission (M-NCPPC ) and the District Department of Transportation (DDOT) to provide updates on trail projects happening across Maryland and DC. Come ride with us to celebrate some of our region's most beloved trails and learn about:
The Arboretum Trail Bridge and Kenilworth South Trail Project
The Anacostia River Trail to Marvin Gaye Trail Connection
The Central Avenue Connector Trail Project
We'll have fun giveaways including: Trail Ranger-branded masks, bike bells, stickers, bike lights, snacks, and CTC Maps!
When: Saturday, April 23rd from 9:30AM -12:30PM
Where: Meet at Bladensburg Waterfront Park in Prince George's County, MD (4601 Annapolis Rd, Bladensburg, MD 20710)
Ride Details: We will be riding on the Anacostia River Trail and Marvin Gaye Trail for 95% of the ride. There will be a small portion of the ride that takes place on low stress, neighborhood streets. The ride will be 12.4 miles in total (1.4 miles on low-stress streets and 11 miles on trail).
Want to meet us along the route? We'll be stopping at the Marvin Gaye Mosaic (4215 Nannie Helen Burroughs Ave NE, Washington, DC 20019) and you are welcome to meet us there! Please just let us know if this is your plan and we'll provide you with additional details.
Cost: FREE!
Co-Host
Jafe Cycling provides bicycle repair services, customization, resells bicycles, and accessories to both children and adults of all backgrounds. Through group rides, tutorial sessions, and community-hosted events "The Trails DMV" promotes health and wellness, encouraging its customers to push further to reach their goals.
Health and Safety Protocols
Code of Conduct: WABA's first priority is to provide a fun, inclusive and safe environment for all participants. We believe that part of building that space is acknowledging our diverse experiences; treating one another with respect and kindness; and adjusting our behavior if, despite our best intentions, we harm someone. That's what the five acknowledgements and agreements that make up our Code of Conduct ask of us. We hope that the Code provides context and vocabulary for you, WABA staff, volunteers, members, and other event participants to have conversations about how we treat each other. Read the code of conduct here.

COVID-19: Masks are optional for this outdoor event for those who are vaccinated – both adults and children. Unvaccinated participants must wear masks.