Since the Capital Trails Coalition's founding in 2016, the region has seen nearly 11 miles of new trail go from paper to pavement! Explore the progress here:
Anacostia River Trail to Kenilworth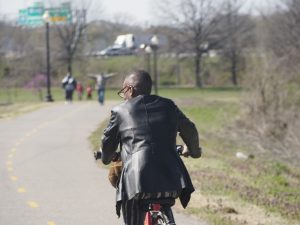 This portion of the Anacostia River Trail weaves through the Kenilworth Aquatic Gardens and connects to DC's Mayfair and Eastland Gardens neighborhoods.
Klingle Valley Trail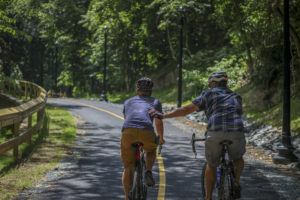 This .7 mile trail restores public access to a part of Rock Creek Park that had been closed for a generation. The car-free walking and biking path connects to Rock Creek Park Trail and links the neighborhoods of Cleveland Park, Woodley Park, and Mount Pleasant.
Washington Boulevard Trail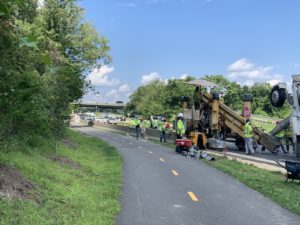 This 10 feet wide trail runs along the western side of Washington Blvd from 2nd Street S to S Rolfe St. It  connects to Towers Park to Columbia Pike and is a key connection the existing Arlington Boulevard Trail!
Needwood Road Bike Path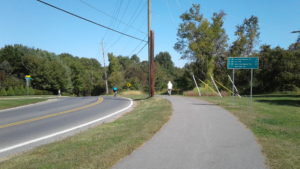 This new bike path creates a 1.7 mile connection between Shady Grove, the Rock Creek Trail, the ICC Trail and Magruder High School. 
Anacostia River Trail (2nd St SW)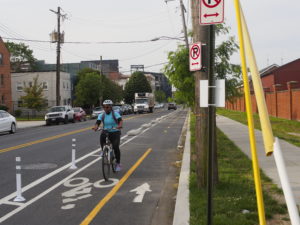 The completion of this Protected Bike Lane closes one of the most significant gaps in the existing Anacostia River Trail network. This PBL connects the Wharf to Nats Park and Audi Field!  
Little Paint Branch Trail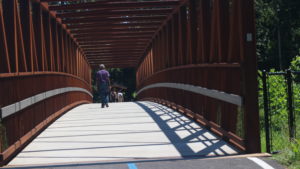 The Little Paint Branch Trail is a extension of the Paint Branch Trail from Cherry Hill Road to the Beltsville Community Center. This extension provides a shared use path across the Beltway and connects two M-NCPPC park facilities: the Paint Branch Stream Valley Park with the Little Paint Branch Stream Valley Park.
Virginia Avenue Trail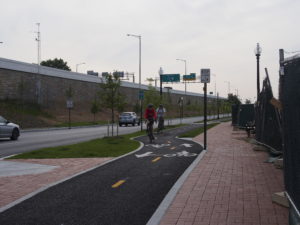 As part of the Virginia Avenue Tunnel Project, Virginia Avenue was rebuilt with a trail from 9th to 2nd SE. The trail was designed having separate spaces for pedestrians and cyclists! 
Anacostia River Trail (P St)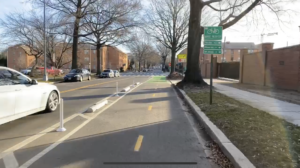 This protected bike lane on P Street SW closes one of the last major gaps in the Anacostia River Trail network! This PBL connects the Wharf to Nats Park and Audi Field.  
College Park Woods Connector Trail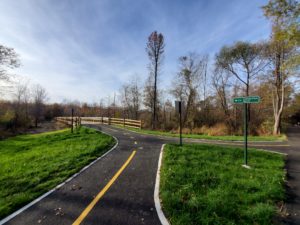 The College Park Woods Connector is a half-mile connector across the University of Maryland land between the neighborhood of College Park Woods and the Paint Branch Trail. This trail links a residential community in the City of College Park with the University of Maryland campus and the Anacostia Tributaries Trail System (Photo credit to Jim Della-Giacoma). 
Malcolm X Trail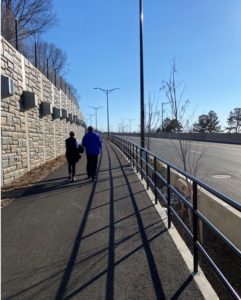 This project established a 10 ft. wide shared use path for pedestrians and bicyclists. Construction was completed in January 2022 along the length of the eastern roadway from the intersection of South Capitol Street/Martin Luther King, Jr. Avenue to Malcolm X Avenue.
Projects Currently Under Construction
Metropolitan Branch Trail (Brookland to Fort Totten)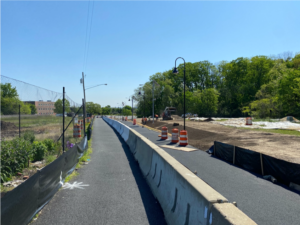 The MBT extension between John McCormack Drive NE and 1st Place NE is the next major milestone toward the completion of the planned eight-mile trail between Silver Spring, Maryland and Union Station. This section will provide access to the Fort Totten Metro, Catholic University and the surrounding community.
ANTICIPATED PROJECT COMPLETION: February 2022
I-66 Trail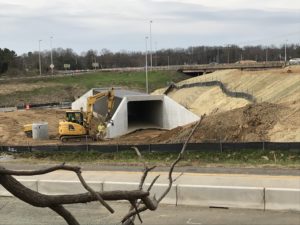 The Transform I-66 Outside the Beltway project includes a shared use trail from Gallows Road to Haymarket. The trail will improve transportation options, bicycle connectivity and safety throughout the I-66 corridor.
ANTICIPATED PROJECT COMPLETION: Winter 2022
Frederick Douglass Bridge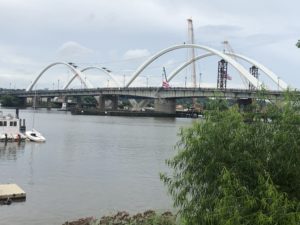 The new triple-arched Frederick Douglass Memorial Bridge will include six travel lanes for vehicles, a dedicated bike path, a pedestrian path, and four overlooks. The east and west ovals will connect to esplanades on both sides of the Anacostia River via pedestrian and bicycle paths.
ANTICIPATED PROJECT COMPLETION: Spring 2022
4.3 miles
Construction is currently paused
Purple Line Trail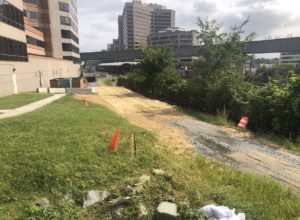 The Purple Line project includes the completion of the Capital Crescent Trail (CCT) between Bethesda and Silver Spring, the completion of the Green Trail along Wayne Avenue to Sligo Creek, and the construction of a bike path through the University of Maryland campus. 
ANTICIPATED PROJECT COMPLETION: Mid-2023 (construction schedule is still under review)
Rock Creek Park Multi-Use Trail Rehabilitation Project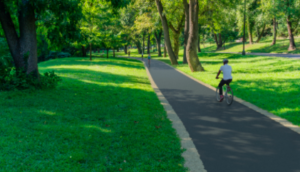 The Rock Creek Park Rehabilitation Project consists of various improvements along the existing trail path such as storm drain improvements, retaining wall reinforcement, path resurfacing, and trail widening upgrades in order to reduce trail erosion and improve trail maintenance longevity. This project also includes a new 110-foot pedestrian bridge that will add 0.9 miles of new trail along Piney Branch Parkway between Beach Dr. and Arkansas Avenue NW.
ANTICIPATED PROJECT COMPLETION: Spring 2023
Route 7 Shared-use Path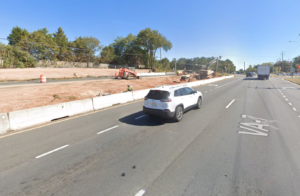 The project will widen the road from four to six lanes, add shared-use paths, and make substantial intersection and other improvements along the corridor. These improvements will  enhance mobility for cyclists between Tysons Corner and Reston. 
ANTICIPATED PROJECT COMPLETION: July 2024
2.0 miles
Broke ground February 2022!
Mount Vernon Memorial Highway Trail Project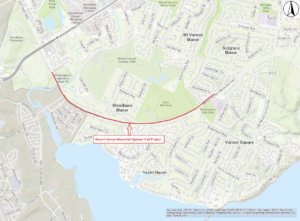 Mount Vernon Memorial Highway Trail Project completes missing segments of the Potomac Heritage National Scenic Trail between Richmond Highway (Route 1) and Southwood Drive for a length of approximately two miles. 
The project will consist of constructing a 10 foot Shared Use Path within the missing segments, which includes a pedestrian bridge adjacent to the Mount Vernon Memorial Highway bridge crossing Dogue Creek. 
ANTICIPATED PROJECT COMPLETION: TBD