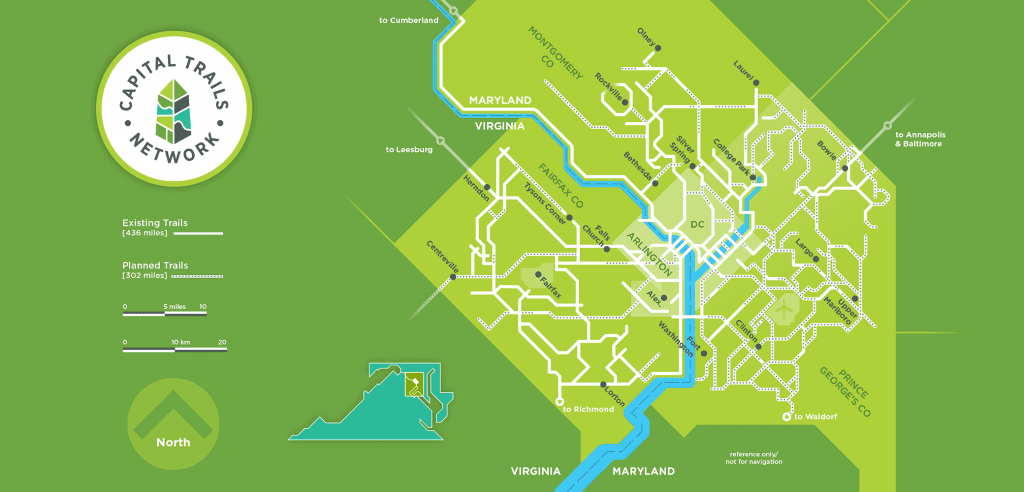 The CTC sent out our first newsletter! In case you missed it, we are including it here.
It has been quite some time since we provided you with an update on our Advocacy related work and the tremendous work being done by the entire Capital Trails Coalition. We have a lot of exciting updates to share!
For many people, there has been a renewed appreciation for parks, trails, and open spaces over the course of the Pandemic. Many people in our region are exploring outdoor spaces which are new to them or seeking out new and existing trails in the region to visit! Many others, however, are turning to closed parkways or less trafficked roads as trails are seeing a record number of users and can sometimes feel too crowded. What is very clear to us is that the work of the Capital Trails Coalition is more important now than ever before. More world class trails are needed to allow for people to reap the benefits of our trails while also maintaining safe distance from other trail users. So what have we been up to over the past several months?
The Washington Council of Governments and the Transportation Planning Board (TPB) adopted the National Capital Trail Network! The unanimous vote by the Council of Government's Board of Directors and the TPB underlines the broad public support for safe, accessible and equitable trails connecting diverse communities across the Washington Metropolitan region. The National Capital Network expands beyond the Capital Trails Coalition's footprint and includes 1,400 miles of trails!
Our work was highlighted in the Washington Post, again!
We hit our $25,000 fundraising goal and will be commissioning an Impact Report to quantify the health, environmental, and economic benefits that this nearly 900 -mile network of trails will have on our region!
We added a new member to our Steering Committee! Please join us in welcoming Renée Moore. Renée has worked in the bike advocacy industry for over 5 years, gaining experience in outreach, Vision Zero, community organizing with the Washington Area Bicyclist Association, and Program Manager at BikeArlington. She is passionate about introducing underserved communities to Alexandria's resources to get them biking, walking, scooting, and using the water taxi and transit more for recreation and transportation. In addition to being the Transit Specialist at the City of Alexandria, she was recently selected by Amsterdam based organization BYCS (pronounced "bikes") to be the Bike Mayor for the DC region. She is also involved in working with blind bicyclists, deaf bicyclists, bicyclists over 50, and African Americans who want to bike. Outside of the office, Renée enjoys cooking, swimming, and learning American Sign Language.
We are honored to have Liz Thorstensen as our Coalition Chair for the year! Liz has been deeply involved with the CTC for 5+ years and is the Vice President of Trail Development at Rails-to-Trails Conservancy! Maura Brophy was selected as the In-coming Chair for July 2021. Maura is the Director of Transportation and Infrastructure at Federal City Council. She is also an urban planner and the Vice President of DC Sustainable Transportation (DCST), a group that works to promote safe, efficient, and reliable transportation solutions for DC's job centers.And sadly, we bid adieu to Aaron Marcovitch, who is moving on to be the Executive Director at Connecticut Landmarks. We wish him well in his new position and thank him for his years of service with the CTC.
We have revamped our website! Explore our new Leadership page as well as the new Our Progress page! Did you know that nearly 11 miles of trails have been completed since the formation of the CTC? 25 miles of trails are currently under construction!
We have welcomed 13 new members to the CTC since April!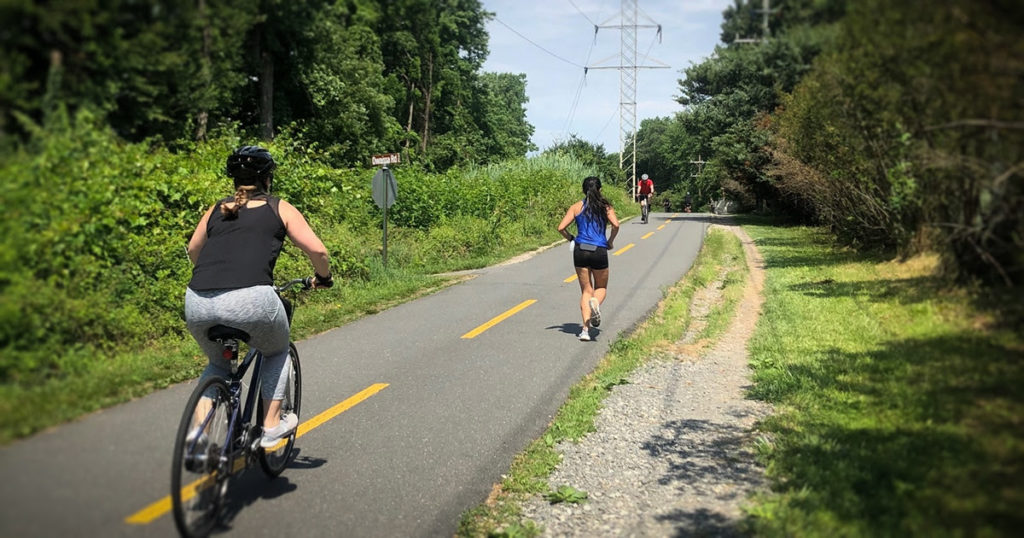 VA Updates:
We wrote the NVTA urging them to support NOVA park's grant to widen the W&OD Trail in Arlington! NOVA Parks was awarded $650K needed to design the project! In August, we celebrated the groundbreaking of the W&OD Trail Enhancements in Falls Church.
We supported the National Park Service's application for $20M of SMART SCALE funding to complete improvements along the Mt. Vernon Trail.
We provided input on the VDOT STARS study of Arlington Boulevard (Route 50) in Arlington County.
MD Updates:
One of our members, WABA, held two webinars on exploring the best trails in Prince George's County with Black Women Bike organizer, Robyn Short!
The CTC issued a letter to Governor Hogan urging him to dedicate more space for walking and biking during the Pandemic.
During WABA's Vision Zero Summit, the CTC organized a session where MNCPPC's Jordan Exantus presented on community engagement strategies used for the Central Avenue Connector Trail Project in Prince George's County.
A letter of support was sent by the CTC for the C&O Canal National Historical Park's "Phase IV, Towpath Rehabilitation: A Safe Towpath" application.
DC Updates:
Comments were submitted concerning the Union Station Expansion Project DEIS. The CTC urged USDOT Federal Railroad Administration to reduce conflicts with vehicles in and around the station, minimize the number of people driving to and from and parking at the station, and create an exceptional multimodal experience that truly enhances and promotes access for all.
The CTC partnered with Destination DC on a fall placement!
The CTC, WABA, and Rails- to-Trails Conservancy conducted a focus group with 20 District residents to better understand barriers to trail use.
We partnered with Georgetown University Master's in Urban & Regional Planning program. The students completed a Story Map highlighting the work of the Capital Trails Coalition.
Want to get involved with the CTC?
Become a Member! Does your organization, company, or agency care about trails? Could you help us advance our vision to complete a nearly 900-mile network of multi-use trails across the region? Reach out to Stephanie Piperno at Stephanie.Piperno@waba.org to learn about how you and your organization can join the CTC!
Follow us on Twitter @TrailsCoalition
If you haven't already, sign up on our website to receive future newsletters!
Sincerely,
The Capital Trails Coalition