Arlington Boulevard Trail
Arlington Boulevard (Route 50) is a multi-lane street running east/west through Arlington and Fairfax Counties as a main transportation corridor. Arlington Boulevard is at the center of the Seven Corners neighborhood in Falls Church and hosts a variety of Asian-owned businesses, such as the Vietnamese-focused shopping complex, the Eden Center. Currently, Arlington Boulevard prioritizes cars and suffers from significant gaps in pedestrian- and bicycle-friendly facilities. Peppered throughout are disconnected stretches of service road that are bicycle/pedestrian friendly, but the numerous gaps make Arlington Boulevard an unreliable route for pedestrians and bicyclists.
I Support this trail!
Sign up for updates about how you can get involved:
Quick Facts
Length: 5.0 miles remaining
Jurisdiction: Fairfax and Arlington Counties
Plan Reference: Arlington Boulevard Trail Concept Plan, Fairfax County Dept. of Transportation Capital Projects List
Status: Partially funded
Currently, there are a variety of improvement projects along Arlington Boulevard in both Arlington and Fairfax Counties to upgrade existing trail stretches and add new trail and sidewalk to the sections currently lacking. While these projects will cover a significant chunk of the five miles of gaps, there are still more gaps to be filled in order to make the trail complete. Also, some of the trail segments are along the north side of Arlington Blvd and some are along the south side, so significant infrastructure must be in place to aid in the safe crossing of the Boulevard.
---
Where is this project in the trail network?
The Arlington Boulevard Trail partially complete; incomplete segments are highlighted in red. Click below to view the interactive web map.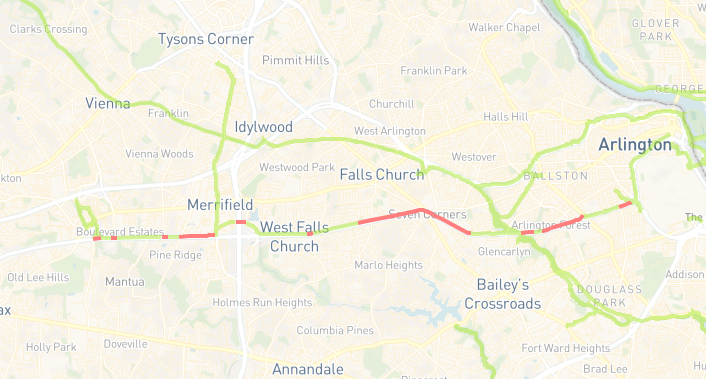 ---
When can you use it?
Trail development is complicated. Here's where the Arlington Boulevard Trail is in the process:

---
Who supports the Arlington Boulevard Trail?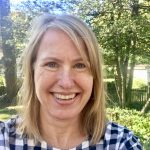 "The Arlington Blvd. Trail would give my family a safe way to bike to places nearby. I would love to have this trail so my kids could safely bike to school and other places with their friends."
—Sonya Breehey, Fairfax County resident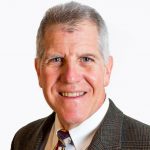 "The Arlington Boulevard Trail improvements from Rosslyn to Washington Boulevard have made mobility along this corridor vastly better for active transportation. It's an important link to our north-south network, providing connections to other new infrastructure. We look forward to completion of and improvements to the sections west of Washington Boulevard."
—Henry Dunbar, BikeArlington
I Support this trail!
Sign up for updates about how you can get involved: