Rails-to-Trails Conservancy and the East Coast Greenway Alliance joined the Congressional Bike Ride to celebrate progress on local, regional, and national trails
We've been busy this spring, celebrating new trail segments, and engaging with locals and elected officials about the value of trails.
We hope to see everyone at the Capital Trails Coalition Membership Meeting scheduled for next Wednesday, June 7 featuring the National Park Service. NPS staff will lead a conversation and provide updates from across the region. The virtual meeting will be hosted over Zoom from 2:00-4:00pm.
We're thrilled to announce the addition of the District Department of Health to the CTC! DC Health's work to promote physical activity and active transportation aligns with Capital Trails Coalition's mission to create a trails network that is equitable, accessible for all, and healthy and safe.
See below for additional highlights of what we've been up to over the past few months.
Happy trails,
Kalli
If you have announcements or upcoming events to highlight in future newsletters, please reach out.
---
REGIONAL UPDATES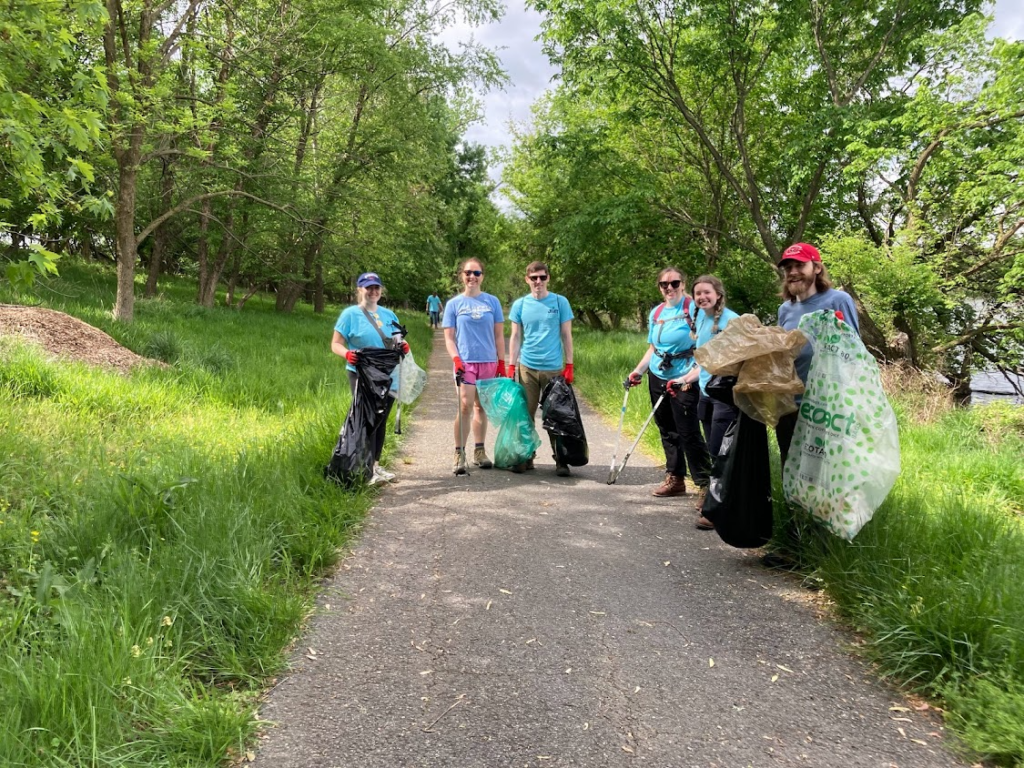 Celebrate Trails Day volunteers helped clean-up the Oxon Run Trail and shoreline in Oxon Cove Park and Oxon Hill Farm
Join us on Wednesday, June 7th for the CTC Quarterly Membership Meeting featuring the National Park Service: We are so excited that the National Park Service, a CTC founding partner, will host our upcoming quarterly membership meeting! Join to hear updates from across the region. The virtual meeting will be hosted over Zoom from 2:00-4:00pm. If you have additional updates you'd like to share with the group during the meeting, please reach out!
Congressional Bike Ride: On May 11th, local bicycling, environmental, and community advocates joined U.S. Representative Earl Blumenauer, Chair of the Congressional Bike Caucus, and other members of Congress and their staffs for a bike ride around the National Mall. During a quick stop, we highlighted the impact that networks of multi-use trails have locally, regionally, and nationally as routes for transportation and recreation, pointing out the intersection of the Capital Trails Network with many thousands of miles of major nationally recognized and designated trail networks, including the East Coast Greenway, Great American Rail Trail, September 11th National Memorial Trail, Potomac Heritage Trail, and C&O Canal Towpath.
Celebrate Trails Day Clean-up: On April 22nd, the Capital Trails Coalition joined a powerhouse community service project led by the National Park Service and the Potomac Riverkeeper Network in partnership with Anacostia Parks & Community Collaborative, Friends of Oxon Run, WABA, and DC's Department of Energy & Environment with sponsorship from Rails-to-Trails Conservancy to commemorate Celebrate Trails Day and Earth Day. Nearly 200 volunteers joined from both the DC and Maryland sides of this hidden gem of a park to remove litter from the trail, park, and waterfront.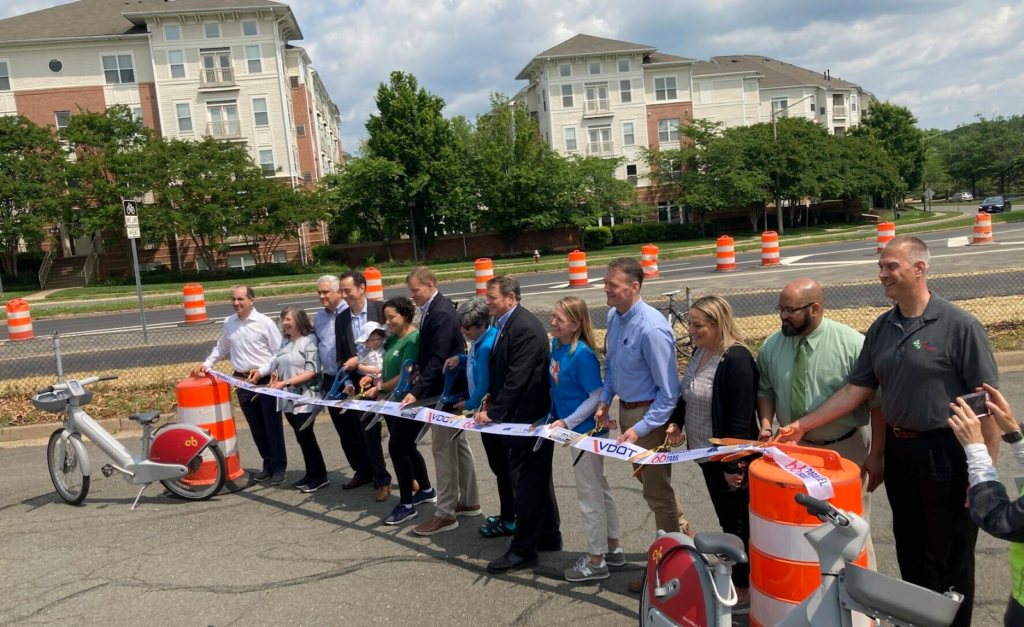 Cutting the ribbon on the I-66 Parallel Trail at Vienna Metro
VIRGINIA UPDATES: Ribbon Cuttings Galore!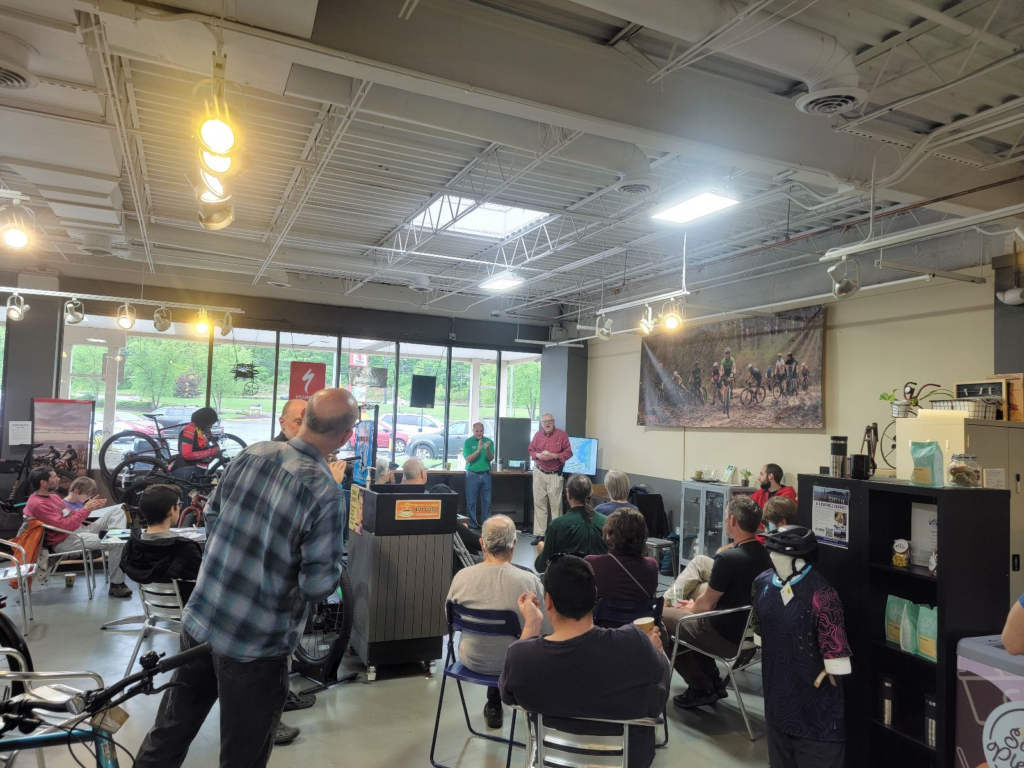 Prince George's advocates heard Councilmember Eric Olson, chair of the Transportation Committee, and Maryland State Senator Jim Rosapepe at Proteus Bikes
MARYLAND UPDATES: Improving Safety for Trail Users
Greenbelt East Trail Receives Feasibility Study & Support: The proposed Greenbelt East Trail would create a link between the Washington Baltimore & Annapolis (WB&A) Trail and the Anacostia River Trail System via Greenbelt. Thanks to the leadership of Proteus Bicycles and the Friends of the Greenbelt East Trail, MDOT SHA decided to conduct a feasibility study as part of their Bicycle Retrofit Program to evaluate alternatives for protected on-road pedestrian and bicyclist facilities, off-road sidewalk widening, and intersection crossings. The trail was also selected for support from the National Park Service – Rivers, Trails, and Conservation Assistance Program to receive technical assistance and expertise.
Capital Crescent Trail Crossing at Little Falls Parkway: Concerns about the crossing of the Capital Crescent Trail – Montgomery County's busiest trail with 2,000 users daily – at Little Falls Parkway peaked when a cyclist was killed in a traffic crash in 2016. Over the years, Montgomery County Parks implemented several traffic calming options while considering ways to permanently improve safety for trail and road users. The most recent proposal to turn two lanes of the road into a linear park between Arlington Road and Dorset Avenue met resistance. Discussions escalated, even threatening funding to the County's Park Department; the project to make permanent safety improvements was put on hold, but the current temporary road diet will remain in place for now.
We've been getting social, joining WABA meet-ups in Prince George's and Montgomery Counties!

Prince George's County Advocate Event at Proteus Bicycles: Prince George's County advocates gathered to hear updates from County Councilmember Eric Olson, chair of the Transportation Committee, and Maryland state Senator Jim Rosapepe at Proteus Bicycles.
Montgomery County Advocate Event: Montgomery County advocates welcomed Maryland State Delegate Lorig Charkoudian to discuss updates across the Country.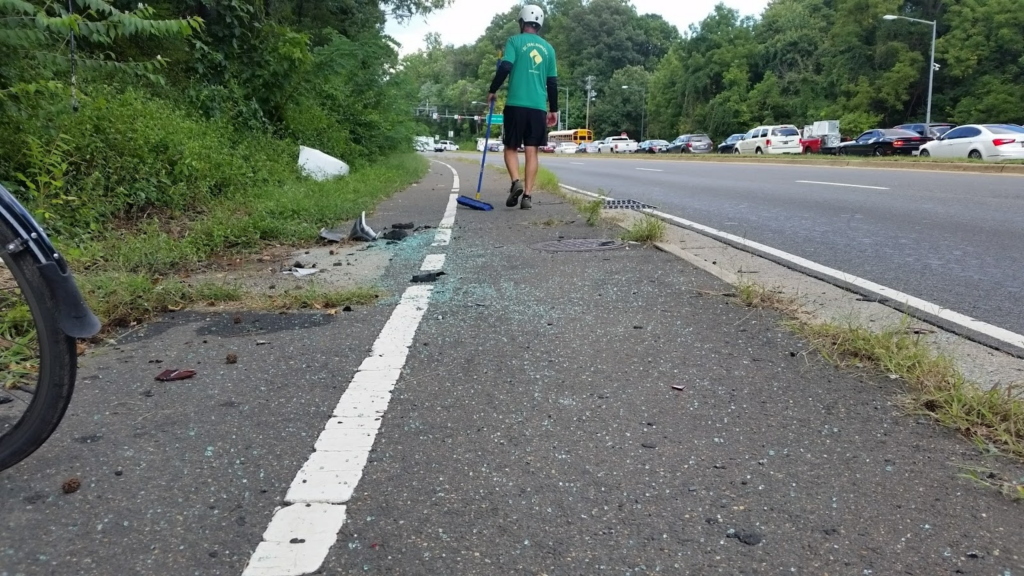 DC Trail Rangers on the Suitland Parkway Trail
DISTRICT OF COLUMBIA UPDATES: Protecting and Improving Existing Trails
Share Feedback on the DC Anacostia River Corridor Restoration Plan: The DC Anacostia River Corridor Restoration Plan is a two-year restoration planning project for the Anacostia River corridor 500-year floodplain within the District of Columbia. Join us virtually on Thursday, June 8th at 6:30pm for the Phase 2 Anacostia River Corridor Restoration Plan Community Meeting! Register for the meeting at ARCRP.Eventbrite.com.
Protecting Ward 8 trails in DC: CTC Member Brenda Richardson, Coordinator of the Anacostia Parks & Community Collaborative, co-authored an article in Greater Greater Washington entitled, "The fate of two trail projects in Southeast DC is too uncertain". The article describes the importance of funding both maintenance and rehabilitation for the Suitland Parkway Trail and funding to make the proposed Shepherd Branch Trail a reality.

Although the DC Council initially supported a broad slate of trail projects, some funds were reallocated during the Committee of the Whole's second review of the FY2024 Local Budget Act on May 30th. Funding for the Oxon Run and Suitland Parkway Trail in FY24 and for the Shepherd Branch Trail in FY25 were redirected to other capital improvement projects in Ward 8. The bulk of funding remains for construction of the Suitland Parkway Trail and Shepherd Branch Trails.

Metropolitan Branch Trail Developments:

Metropolitan Branch Trail on Google Street View: The DC Trail Rangers published a segment of the MBT to Google Street View! The new section of the MBT at Fort Totten is now viewable with additional sections of the MBT and other DC trails to be added and updated over the summer.
Riggs Road – Met Branch Trail Connector: DDOT proposed to reconfigure the 100 block of Riggs Road between First Place NE and South Dakota Ave NE to remove the curbside eastbound travel lane for 800 feet, and convert that space to a two-way protected bike lane to create a dedicated and safer connection for people biking under the railroad tracks to reach the Metropolitan Branch Trail.
Rhode Island Avenue NE Development: ANCs are working with the Eckington Civic Association to review transportation infrastructure at the southwest corner of the MBT and Rhode Island Avenue. The current plans include improvements to the W Street entrance to the MBT, resident access to the trail, and additional safety improvements to the nearby sidewalks.
---
Funding Opportunities
Community Connectors Grants: With support from the Robert Wood Johnson Foundation, Smart Growth America in collaboration with Equitable Cities, the New Urban Mobility Alliance, and America Walks have created the Community Connectors program to help advance locally driven projects that will reconnect communities separated or harmed by transportation infrastructure and tap available federal and state funds to support them. Fifteen teams from small to mid-sized cities (between approximately 50,000 and 500,000 in population) will be selected to receive a capacity-building grant to advance these projects.
Public entities and nonprofit organizations may apply together as small teams to receive grants of up to $130,000 each for capacity building to advance these projects. Applications are due before July 15, 2023 at 11:59pm.
Transit Within Reach Program Technical Assistance: Transit Within Reach Program provides funds for design and preliminary engineering projects to help improve bike and walk connections to existing high-capacity transit stations or stations that will be open to riders by 2030. The program places emphasis on projects that improve access in TPB Transit Access Focus Areas (TAFAs), which have been identified as prime locations for small capital improvements – such as sidewalks, trails, crosswalks – that will make it safer and easier to walk or bike to train stations and bus stops. Applications are due by August 4, 2023.
Register for the Local Infrastructure Hub: Local officials working to access the historic levels of federal infrastructure funding that may be available for their communities have a new resource center to help. The Local Infrastructure Hub is offering a new bootcamp series that will provide cities, towns, and villages with less than 150,000 residents pro-bono technical assistance, robust coaching, and expert guidance to support them in developing competitive applications.
Upcoming events
---
Want to get involved with the CTC?
Become a Member! Does your organization, company, or agency care about multi-use trails? Could you help us advance our vision to complete a nearly 1,000-mile network of trails across the region or to help residents and trail users feel more comfortable using trails? Reach out to Kalli Krumpos to learn about how you and your organization can join the CTC!
If you haven't already, sign up on our website to receive future newsletters and updates.
If your organization has an opportunity to engage on a related issue or has an open position, please feel free to share information with the Capital Trails Coalition Google Group or to share the message directly with the CTC for inclusion in the next round-up email.