By Stephanie Piperno and Meredith Loui
For a large portion of the population, daily routines have been disrupted as COVID-19 has decided to take off its shoes and make itself exceptionally comfortable. In an attempt to counteract the uncertainty, isolation, and immobility that we feel in this time of quarantine, many have turned to walking, running, cycling, and roller skating on trails.
All across the nation, trails are seeing more users than ever before. According to data provided by Rails-to-Trails Conservancy, nearly every week in 2020 saw an increase in trail users compared to numbers of the same week in 2019. Several weeks in March and April even saw as many as 1.5 – 2 times the number of trail users as the year before.
The DC area is no exception. The W&OD Bon Air Park counter, in Arlington, VA, shows that between June and October 2020 trail use increased by 28% (391,355 total trips) from the year before with a 37% increase in people on bikes and a 23% increase in people running and walking. That's 250,581 more trips by bike and 140,774 more trips on foot! These numbers are especially meaningful as this time period reflects a period when people settled into pandemic routines—the traffic increase isn't from the first few weeks of work-from-home life and the novelty of rediscovering nature. Rather, the data show people's new habits and patterns of increased time outdoors and on trails.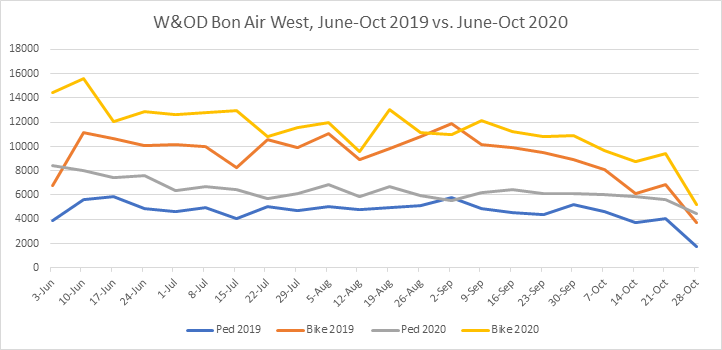 Data is taken from the BikeArlington Counter Dashboard
On the northern side of the Potomac River, the Montgomery County portion of the Capital Crescent Trail saw traffic increase by 9% between March 1st through December 30th compared to the same time period in 2019. Although 9% isn't as mind-blowing at face value, 9% translates to 43,949 more trips on the trail! You can see the breakdown in use by bicyclists and pedestrians below.
March 1, 2020- Dec 30, 2020
March 1,2019-Dec 30, 2019
Counter Location
County
Bike
Peds
Total
Bike
Peds
Total
% Increase Year over Year
Capital Crescent Trail
Montgomery County
415,848
141,196
557,044
411,577
101,518
513,095
9%
TR Island Bridge
Arlington County
277,860
316,930
594,790
176,861
365,216
542,077
10%
Data is taken from the BikeArlington Counter Dashboard
Interestingly, many trails, like the Custis Trail in Arlington, are seeing a change in travel patterns. The Custis Trail is a popular commuter route and typically sees peak use between 7-9am and 5-6pm. With more people working from home, we now no longer see the mid-day dip that was typical of pre-pandemic times after the peak of early morning commutes. Instead, we are seeing high trail use on weekdays starting around 7am that is maintained for a twelve hour period until about 7pm.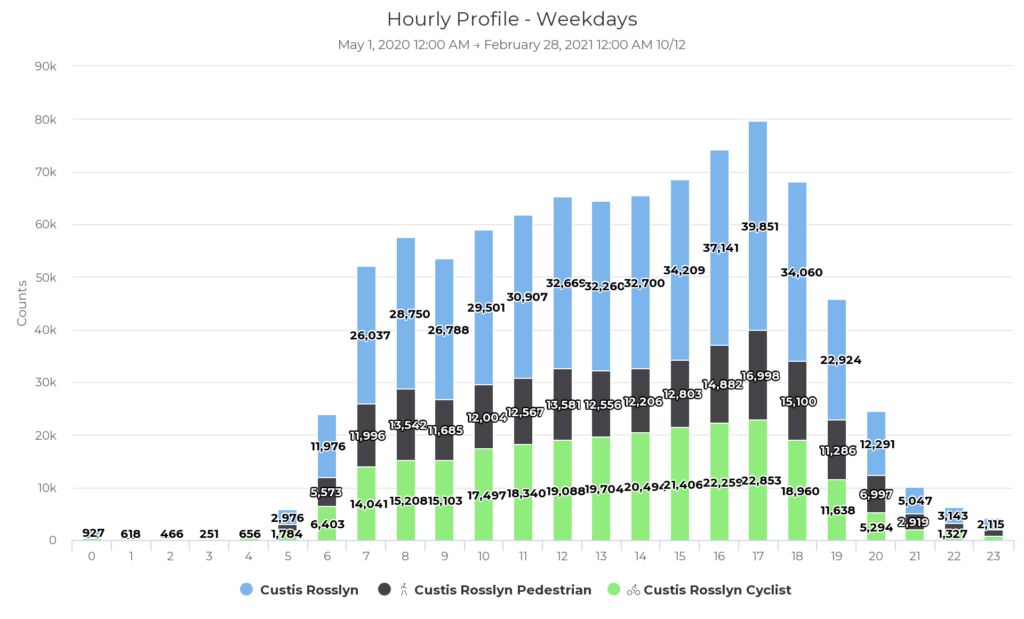 Areas like Bladensburg Waterfront Park, in Prince George's County, reflect the vast increase in these mid-day outings as its counters show a 76% increase in trail use during the weekdays between April-September (2020 vs 2019). The same counter shows an 81% increase in overall users over the same time period—a fact made more impressive given that there was a 29% increase in use from 2018 to 2019.
These numbers are incredible and maintaining this level of trail and park use could benefit the area in a multitude of ways. A study conducted in 2013 found that as people's commute and time spent in congested traffic increased, their subjective well-being and perceived happiness decreased (Choi, Coughlin, & D'Ambrosio). Fortunately, a review of research was done in 2018 that strongly supports that just 10 minutes of physical activity per day can significantly increase your levels of happiness (Zhang & Chen)! Further, a study done in Beijing, China in 2018 has shown a drastic decrease in fuel consumption with the implementation of a bike-sharing program—some scenarios showed a fuel use reduction of 225.06 thousand tons (Qui & He). This is evidence that when people select walking and biking over motorized vehicles, there is a drastic reduction in CO2 emissions, and a measurable increase in mental and physical health.
Even with the (hopeful) end of the pandemic on the horizon, we think these use patterns are here to stay. Many businesses and corporations are already projecting that they will not return to in-person work at full-capacity until 2022. As a result, trail crowding will continue to be a challenge, even once the majority of the population is vaccinated. As many Washington Area residents know, visiting the Capital Crescent Trail or W&OD Trail on a weekend morning can feel as stressful as Beltway traffic.
A recent survey showed that 63% of likely DC voters would bike more around Washington, DC if they felt safer biking on the road and that 79% would support a protected bike lane network, including on neighborhood streets, if it meant bike riders could ride in the street and be safe from traffic. This shows that people are interested in walking and biking and with the right infrastructure, these modes of transportation could be an integral part of many people's daily lives and lifestyles.
With work-from-home life becoming a new norm for more people, and a resulting increase in trail users, we need to ensure there is enough supply for the growing demand. Fortunately, there is a solution – more trails! Not only do they provide access to a wider network of transportation, but using them – whether walking, running, riding, or roller skating – benefits your mental and physical health and well-being. We're working hard on the expansion of the trail network to balance the increase, and so people can feel safe while out on the trails for recreation, daily commuting, and to support the projected and welcomed increase in trail users.